Venue
Children's School of Arts after M.I. Glinka
12, Oktyabrsky Prospekt, Troitsk-Moscow, Russia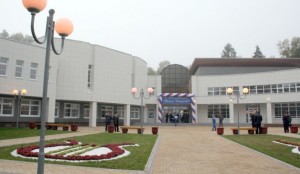 Children's School of Arts after M.I. Glinka was founded in Troitsk in 1971. In 2004 the School was turned into a School of Arts and the construction of the new modern building began. The building can now accommodate 180 students at the same time.
The Schools total capacity is 600 students. Its fundamental department is musical, it has its own history and the teachers working there have a vast teaching experience.
The School's building is located in the central part of the city. The district combines a park, a small forest and modern buildings – one of them is that of the School – which adds to the particular harmony of the area.

Krasnaya Pakhra Resort (accomodation of participants)
1, 10, Parkovaya Str., Krasnoe Settlement, Moscow, Russia
Krasnaya Pakhra Resort is a new resort located 30 kilometers from Moscow in a beautiful part of Moscow region. The sanatorium complex was built in 2015 and meets all the requirements of the largest Russian hotel chain AMAKS Hotels&Resorts. The place combines the features of a well-equipped resort and an excellent conference venue.